Show Act! contacts on a map, adding routing, create lookups/groups of contacts based on location
In late 2018, Mapper was rebuilt with MapQuest technology that allows you to make 15,000 contact searches per month for free. If you need more you can simply upgrade your API key directly with MapQuest. In February 2019, we upgraded it further to improve the heatmap display, and reduced the price. Best part is there is no ongoing cost!
Mapper4act lets you:
monthGeo Coding: After creating a latitude field (Decimal) and longitude field (Decimal). Mapper will help you calculate the Latitude and Longitude for your records. Mapper uses Mapquest to determine these points on the address block of your choosing. If you'd like to only like to find the Latitude and Longitude on certain records, Mapper allows you to do a lookup on your current selection or all records.
Geo Locate: Once you've determined the Latitude and Longitude on your records you can find all records that have been geo coded in a chosen radius from a selected record. The geo locate function searches for all records that have been geo coded in your chosen radius from your center point (current record).
Mapping: After your records have been geo coded display a look up of records on a map. You can choose to just highlight those places on the map, create an efficient route through those points, or a combination of the two.

Mapper4act Features
Display your contacts on an interactive map.

Create groups based on a geo fence

Send a map of the contacts to any email address

Route driving directions through up to twenty-six contacts

Create a radial lookup of your contacts from any contact as a center point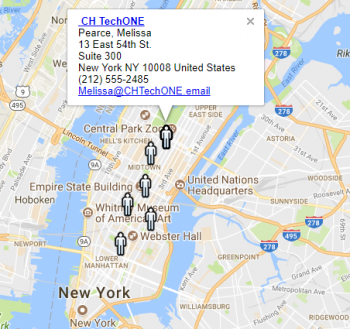 Video Demonstration: