Do you need your CRM in the cloud, on-premise or a hybrid?
CRM solutions can be deployed to suit your business needs. The advantage of Act! over other popular CRMs is that it offers a cloud solution, an on-premise solution, or a combination of both. Whilst cloud technology offers enormous benefits for CRM users, there are situations when you may want an on-premise CRM solution. Find an explanation of the differences and options for these deployment methods below. If you still need help deciding what solution will work best for your business, our team of CRM consultants are ready to answer all your questions to ensure you get the right solution.
Cloud CRM
Due to the many benefits of cloud technology, cloud CRMs are the most popular deployment option in today's business world. Your data and the software is hosted online so you don't have to worry about all the technical details and can access from anywhere, as long as you have an Internet connection.
Choose a cloud CRM if you require:
On-demand access to your CRM
Fast, easy deployment and hosting
Flexibility so that you can scale up or down to meet your business requirements
Assurance that your data is secure, maintained and backed up
Don't have internal IT support
Cloud options for Act!
There are a couple for options for customers who want to access Act! via the cloud.
Article: Top 6 Reasons To Move Your CRM To The Cloud
On-Premise CRM
An on-premise solution means that the software is installed and operated from your own in-house server and computing infrastructure.
Choose an on-premise CRM if you:
Require complete access to all Act! features and functionality
Need advanced customisation and integration capabilities
Require control of your data on your own site
Want fast operation
Don't want to be reliant on your Internet speed
Desire lower software costs
Act! Premium can be purchased as an on-premise solution. You get a full-featured CRM that you install on your own IT infrastructure so that you have full control of your data, server security and privacy.
Additionally, with an Act! Premium on-premise solution you have the option to add one or more remote databases to use locally. With a remote database, you can have it installed on your laptop for when you travel and don't have access to the Internet. This way you can continue to work while you are flying and then sync changes back to the master database when you get online again. A lot of our customers use this method if they work from home as they achieve higher productivity when working on a local copy of the database. Plus, it can be more user-friendly working on the local application rather than the cloud. Remote users can sync data updates manually or set an automatic schedule periodically during the day depending on the requirements to keep the master database updated.
Need Marketing Automation? For on-premise customers needing Marketing Automation, you have the option to add Act! Marketing Automation to create a fully integrated sales and marketing solution to maximise customer engagement and drive business growth.
Mobile Act! Solutions
Using Act! whilst on the move is invaluable if you work away from the office or have a mobile workforce. Once you have your main Act! database implemented using one of the models above, a mobile app for Act! will enable access to all your key information including contact data, calendar and sales opportunities from mobile and tablet devices. We recommend 2 options for mobile access to Act!. For a breakdown of the differences between each, see Mobile Apps Comparision Chart
What is a Hybrid CRM?
A hybrid CRM solution is where you can access Act! via the cloud and locally. Your team can access Act! locally in the office every day or from a remote offline database at home and then have a cloud option to access when you work remotely.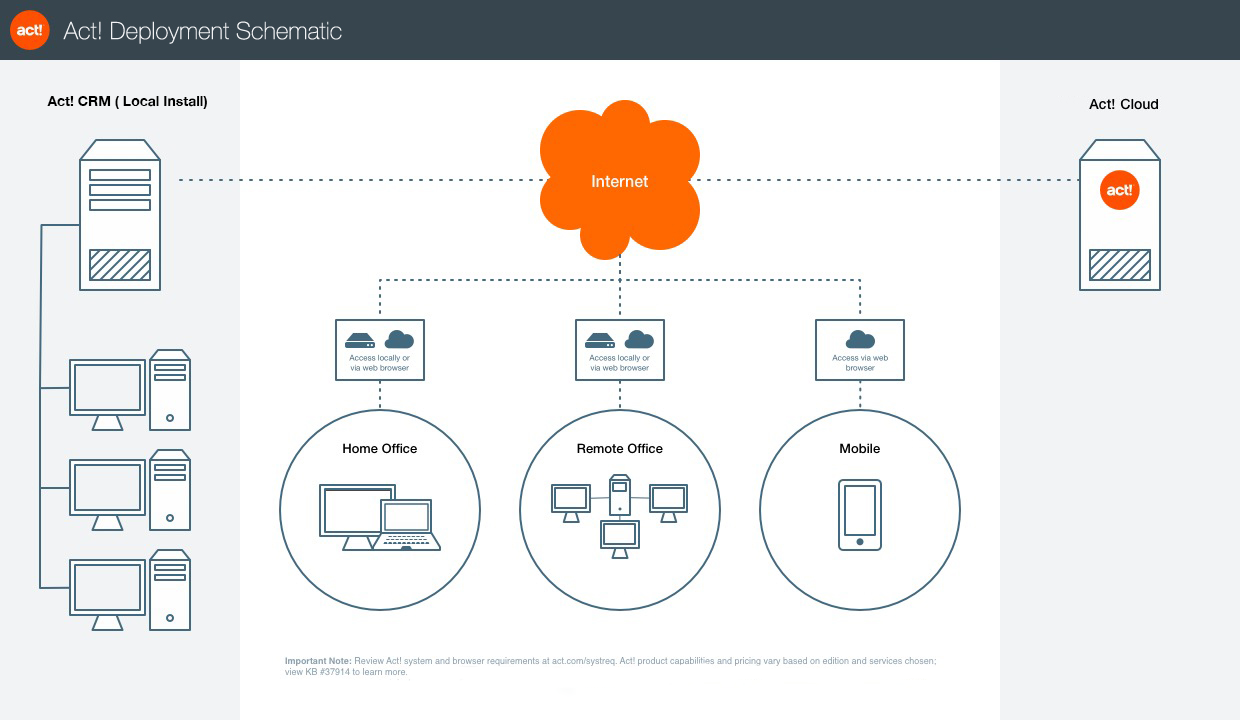 Example of a hybrid CRM solution with both local and cloud access.
So whether you need a CRM with all cloud access, a locally installed on-premise solution,
or a combination of both so you can have the best of both worlds, we have a solution for you.
Contact us to discuss your CRM deployment requirements.