Do you feel that you and your staff are not working to full capacity?
If you answer "yes", don't worry, you are not the only one. Wasted time at work actually costs organisations $87 billion per year1. If you were able to increase the productivity of your team, even just a little, what effect would that have on your business?
A recent survey found that "70% of workers said their productivity would improve if they had faster access to more accurate data and analytics allowing them to make better business decisions."
An easy way to gain a comprehensive, integrated view of your business data is with Act! CRM. With Act!, you work smarter and faster, enabling you to realise ultimate productivity gains so you have time to focus your attention on more important business-critical activities. Because all the details reside in Act!, you receive detailed performance insight to make important decisions with confidence and move your business forward.
Here are our top 6 strategies to automate your workflow and improve productivity with Act! CRM.
1. Task List
The Task List is a powerful function that allows you to focus on different types of tasks. By tailoring your task list to suit your schedule, you are able to eliminate downtime and minimise time spent on non-productive activities. For example, do your sales people inadvertently decrease their productivity by attempting to make sales calls at the wrong time? See chart below for the wasted call times and the reasons people are not receptive to sales calls during these time periods.
| | |
| --- | --- |
| Wasted Call Time | Reason |
| 9:00am | Organising their day |
| 12:00-2:00pm | Many people are at lunch during this time frame |
| After 4:00pm | People are trying to get their day completed and focused on getting home. |
Use your Act! Task List to maximise your productivity by minimising wasted call times in two easy steps:
Create a lookup of those contacts you wish to call
Filter out calls between the best time slots of 10:00am-12:00pm and 2:00pm-4:00pm
Outside of the ideal call time slots, manage other activity types such as "to-dos" which might have been scheduled during the call cycle. Again, the Task List filter allows you to create a lookup of contacts with to-dos.
2. Schedule the next step
Schedule what has to happen next in the interaction. For example, you have just finished a call with a new lead and promised to email him next week with some new information. Schedule a to-do for next week and even a follow up call to ensure that he receives the information okay. Once scheduled, you can forget about it and deal with what needs doing today. If you always perform the same steps, create an Activity Series in Act! – see 3. For other tips on Scheduling in Act!, see our Video Tutorials.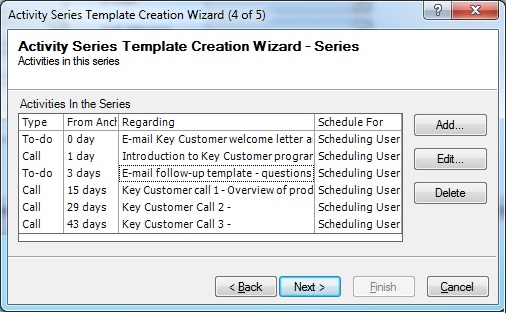 4. Limit alarms for important events only
Avoid setting alarms for all activities as they can be distracting. Additionally, alarms on every activity tend to make important ones hide in the confusion as people tend to select snooze alarms making them irrelevant. When you get used to managing your daily tasks through your Task List, you will find you won't need alarms unless its imperative that you don't miss the task. First thing in the morning, you open Act!, then go to your Task List and you can see what has to be done that day.
5. Customise your Act! layout
By customising the layout screen in Act!, you simplify data entry and remove unwanted fields to avoid unnecessary distractions. A well designed layout will increase the efficiency in which tasks are completed. Additionally. you have many layout options available so Act! will look and function like it is designed specifically for your business.
6. Office integration
Act! integrates easily and seamlessly with Microsoft Office® and many other popular business tools. When sending and receiving emails, Act! automatically attaches these emails to your contacts history so there is a central location for all interactions. This allows you to easily locate information and evaluate customer interactions to determine appropriate next steps. Other great time saving features are the ability to export data to Microsoft Excel with just one click or perform mail merges to Outlook or Word.
"Increasing worker productivity through technology, data analytics and more efficient processes are keys to boosting and beating the skills crisis."3 Empower your staff to be more productive with Act!. By controlling your task environment effectively you can ensure all tasks are completed in a timely manner, allowing you to meet your deadlines every time and ensure that nothing is forgotten.
Are you an existing Act! customer?
Contact us on 1300 362 046 today to book your one on one session with an Act! consultant. Together, we will review how you are currently using Act! and help you to identify areas of improvement to enhance staff productivity at your organisation.
Not yet an Act! customer?
Start your Act! free trial so you can enjoy the benefits of improved staff productivity with Act!.
The EY Australian Productivity Pulse, 'Upturn in Australian Productivity'
Productivity Pulse Wave 6, 'Adapting our workforce'
Deloitte, Building the Lucky Country series, 'Where is your next worker?'