Act! Groups are a fantastic way to help you to categorise and organise your contacts into meaningful and useful subsets.
As a consultant working with Act! users every day, I am overwhelmed at how many people do not utilise this feature. Groups have many features and can be used for a variety of different purposes such as:
Segmenting your Target Markets
Categorising your contacts in different target market groups such as "New Leads", "Big Spenders", "One-time Users", "Industries" and so forth. These groups are especially important when it comes to E-Marketing, as there is no "one-size-fits-all" for email campaigns. Categorising helps you with segmenting your marketing messages and sending the right message to the right group of people, by doing this you will increase the effectiveness of your marketing.
Streamline Business Processes
There are many ways that Act! Groups can help to reduce your time spent on daily tasks. For example, a company with clients on an annual subscription payment model could have a group for current subscribers and another group for expired subscribers. Automating this process with 'Dynamic Groups' means you don't spend time manually adding contacts to these groups. See below for more on Dynamic Groups.
Build and maintain rapport with your customers
Everyone loves a birthday card/message, so why not create a birthday group for each month. At the beginning of the month, organise a mail-out schedule or better still, use Act! Smart Tasks to automate greetings.
To help you to manage your groups, there are 2 types: Static and Dynamic Groups.
Static Groups
Static groups are fixed and cannot be changed unless a user manually does so. For example, contacts are individually selected to become members of a group and continue to be members unless the user removes them.
Static groups are perfect for subsets that possess a short life-cycle, such as an event. To demonstrate, we add manually add contacts who register for one of our Act! Courses into a static group. From here, we can quickly and easily see the registered attendees, send them confirmations, reminders and thank you emails.
Dynamic Groups
Dynamic groups can change and are not fixed. For example, contacts are automatically added to a group using a query. If a record no longer meets the query criteria, it is automatically removed from the group.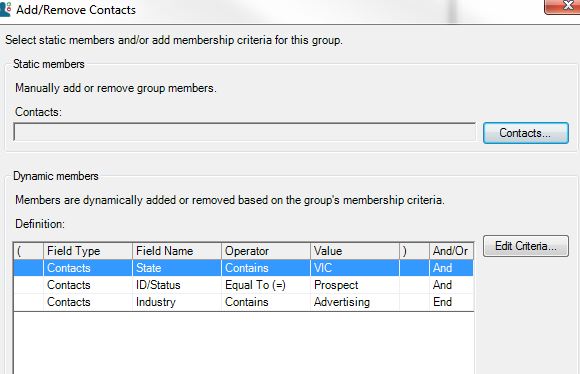 Act! Groups can have up to 15 levels of subgroups and an unlimited number of groups and subgroups at each level. Also, if you have personal contacts, you can make your group private so no one else can view the group information.
If you want to learn more about Act! Groups or other features of Act!, contact your local Act! Certified Consultant.