As a small business investing in Customer Relationship Management (CRM) software, you want to see a return on your investment. It's therefore vital to understand how CRM can be the most valuable asset to your business.
For some people, they simply want their CRM to be a central store for their customer details, however for many, they see CRM as an opportunity to reshape the way their business operates in order to maximise their business opportunities.
Although Act! is a simple and affordable CRM, it offers you incredible power to drive results for your business. Here are our 6 steps to maximise the power of Act! CRM and ensure that it's the most valuable asset in your business.
1. Make sure your data is tidy and up-to-date
The quality of your customer data is paramount to the success of your CRM. That saying "You only get out what you put in" certainly applies to CRM. If you are relying on your data to make important decisions within the business and market to your customers, clean and accurate data is essential. Clean data also reduces processing errors and data redundancy. If your database contains duplicated data, it can cost you time, money and your reputation. See our Top 6 Ways to Avoid Dirty Data.
2. Allow CRM to drive your business decision making
Your CRM gives you a 360 degree view of your customers through an easy-to-use interface. Whilst access to this information is useful to provide a personalised service, it can also help management, sales, marketing, and staff make important decisions with confidence. For example:
Customer information allows you to profile and segment your data so you can understand the current and potential value of a customer.
Using customer information, you can anticipate buyer behaviours and therefore predict the impact and success of marketing initiatives.
Complete and detailed information on your customers enables your sales team to offer services and products to meet the customers' needs and inspire loyalty.
Reports quickly and easily provide key information for analysis by management.
Forecasting potential opportunities and sales volumes provides a way to monitor the business performance and predict future income.
3. Integrate with your accounting software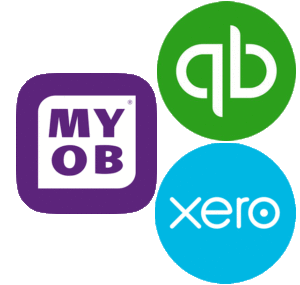 An easy way to make Act! a great asset to your business is by integrating it with your accounting software. With the Act! Accounting links (MYOB, QuickBooks, Xero) your staff get a 360 degree view of all customer interactions from within Act! such as estimates, invoices, sales and payments. Linking CRM and your Accounts software also eliminates duplicate data entry as you only have to enter contact data once, saving time and reducing data inconsistencies. With Act! Premium, you also have the ability to connect Act! with leading eCommerce platforms (WooCommerce, Etsy, Shopify, BigCommerce, Ecwid, and Volusion). Order details from your online store can be automatically recorded in the History tab of the contact so that your Act! users can view the order ID, quantity, price of items ordered and the order total, giving them a more comprehensive view of your contacts. See the benefits of integrating Act! with your Accounting software.
4. Empower your staff with CRM training
The most common mistake that people make when implementing CRM is they don't get the proper training for their team. CRM training is crucial. If your staff don't have training, then they will most likely not use it the way you intended and they will be inhibiting the business from achieving its CRM goals. Think of Act! like a high performance car that you have just purchased. You wouldn't let someone get behind the wheel that doesn't know how to drive. Not only could they damage it but they won't be able to gain the full experience like someone who knows how to drive it. Providing your team with the knowledge and skills to "drive" your CRM will increase the likelihood of great results for your business.
We offer a variety of Training options, whether it be at your premises with the entire team, or remotely via Webinar, we can get your team up and running efficiently to make the most of your investment.
5. Invest time in Marketing Automation
Integrating Marketing Automation with your CRM is a cost-effective way to grow your business. According to Hubspot, businesses generate 58% of all revenue through segmented and targeted emails1.
Marketing Automation allows businesses to streamline, automate and measure marketing tasks and workflows. And Marketing Automation isn't just for the 'big guys'. Small and medium sized businesses can benefit from Marketing Automation without having to break the bank. With Act!, Marketing Automation is already integrated into the CRM enabling to you quickly and easily create emails and marketing campaigns. Before you know it, you will be intelligently nurturing leads and existing customers to grow your business.
For more information on the benefits and features, take a look at Act! Marketing Automation.
6. Have a CRM Business Partner work with you
Our business partners are skilled in helping you maximise the benefits of Act! CRM. All successful businesses utilise specialists from outside their organisation to help them achieve their goals. An Act! business partner is exactly that person when it comes to CRM. They are there to work with your business at all times to ensure that your team are achieving the best results. When you invest in CRM you can do so confidently with the knowledge and guidance of our business partners. Find your local CRM partner.
These a just a few ways to make Act! an asset to your business. To find out more about how Act! can help grow your business, call the Act! sales team on 1300 362 046 or speak to your Act! Business Partner.
Read more articles on Building Your Business with Act!